Regular price
€30,00 EUR
Sale price
€22,00 EUR
Unit price
per
Sale
Sold out
Get our collection package-special offer!

This is our fourth, handmade and sustainable collection!

Σαββατοκύριακο Essentials Combo.
Τι περιλαμβάνει αυτό το #COMBO;

Ένα τεύχος cozy book.

Ένα daily small bag με χρώμα της επιλογής σας.
Αντικείμενα αρχικής αξίας 30 ευρώ.
Περισσότερες πληροφορίες για αυτά τα 2 προϊόντα...
THE COZY BOOK
Στήλες: TRIPS | WELLNESS | PEOPLE & STORIES | CULTURE
σελ.: 74 σελίδες, διαστάσεις: 17X24cm
Οικολογικό έντυπο περιοδικό.
Βιοδιασπώμενο φιλικό προς το περιβάλλον προϊόν, τυπωμένο σε οικολογικό χαρτί πιστοποιημένο κατά FSC, μακράς διάρκειας.
Εκδόθηκε ανεξάρτητα στην Αθήνα.
Παράγεται στην Ελλάδα.
Έρχεται με ανακυκλώσιμο και βιοδιασπώμενο packaging.
DAILY SMALL BAG

100% βαμβακερό 300 γρ. denim τσαντάκι, με μαλακό & σταθερό ύφασμα.
Διαθέτει ανθεκτικό φερμουάρ και τελείωμα με κορδόνι. Έχει ραμμένη την ετικέτα μας, επίσης από 100% οργανικό βαμβάκι.
Διαστάσεις: 30 x 20cm με 10cm πάτο
SOS! Επιλέξτε το τελείωμα που θέλετε!!! Τα τελειώματα στα small bags μας είναι ΝΕΟΝ: Πορτοκαλί, φούξ, γαλάζιο, κίτρινο, μπλε. Αν θέλεις να επιλέξεις χρώμα απλώς σημείωσε το μας στις παρατηρήσεις κατά το check out, ειδάλλως trust us και θα δεις του πάνε όλα! <3

Share
Shipping

Για παραγγελίες σ'όλη την Ελλάδα (και σε απομακρυσμένες περιοχές), το κόστος αποστολής ανέρχεται στο ποσό των 3€. Αποστολή σε 1-3 εργάσιμες
ημέρες.
Return policy

Οι ακυρώσεις παραγγελιών γίνονται δεκτές εντός 10 ωρών. Στην περίπτωση
που θέλετε να ακυρώσετε την παραγγελία σας ενημερώστε μας εγκαίρως με σχετικό e-mail (Θέμα email: ακύρωση παραγγελίας). Η ακύρωση ΔΕ γίνεται
δεκτή στην περίπτωση που έχει ήδη προχωρήσει σε αποστολή και βρίσκεται
καθοδόν.
View full details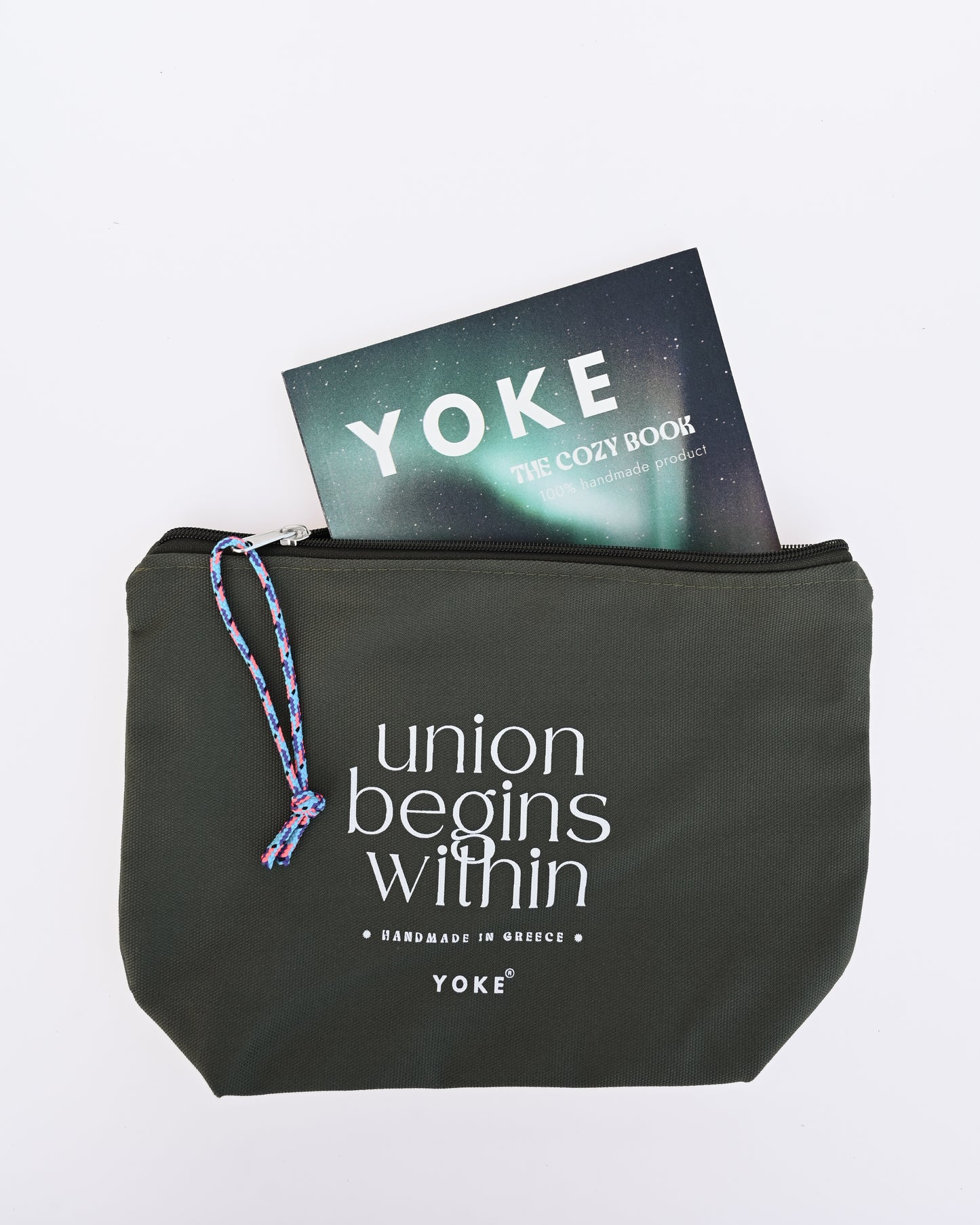 we are always connected.
People, Culture, Eco-living, World, Wellness. Το όραμα του ΥΟΚΕ και των ανθρώπων του είναι η δημιουργία μίας ζωντανής κοινότητας που μοιράζεται ιδέες, ιστορίες και συνήθειες.